Dr Prasanth's Smile D'Zign, is an ISO 9001:2015 certified Orthodontic Centre and Multispeciality Dental Clinic.

Our aim is to provide the best care for our patients. We pride ourselves in providing you with a warm welcoming environment for your comfort and peace of mind. Also we ensure that you should get all the advantages of being treated with advanced technologies available in the field of dentistry.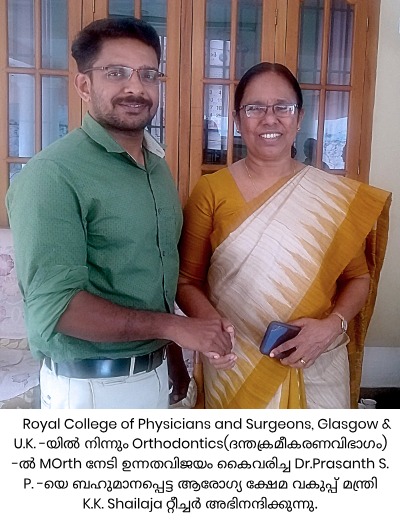 We have got a good team of specialists with enough knowledge and experience who are ready to solve any of your queries regarding dentistry and provide you the best dental service in a caring and friendly atmosphere. We feel proud to say that our customers call us their favourite dentist in Varkala. At our clinic we offer wide range of services such as dental cleaning, bonding braces, extractions, root canal treatment, implants, periodontal gum therapy, fillings, crowns, bridges, cosmetic dentistry, bleaching, removable partial dentures and complete dentures.

Our Mission
To help our patients achieve optimal oral health and well-being through expert preventive oral health care advice and offer dental treatment in a serene and comfortable atmosphere with utmost importance to sterilization, disinfection and patient safety.

Our Vision
Our goal is to offer the all the latest advancements in Dentistry to our patients at an affordable cost.

Our Quality Policy & Facilities
We have left no stone unturned to ensure the highest quality of service at par with international standards, through our state of the art facility and equipments and by using the most advanced techniques in dentistry.

Our Practice Philosophy
At our Dental Clinic, we give utmost importance to understanding the concerns and needs of our patients and offering the best possible solutions and tailoring the treatment plan according to the individual needs of the patient.